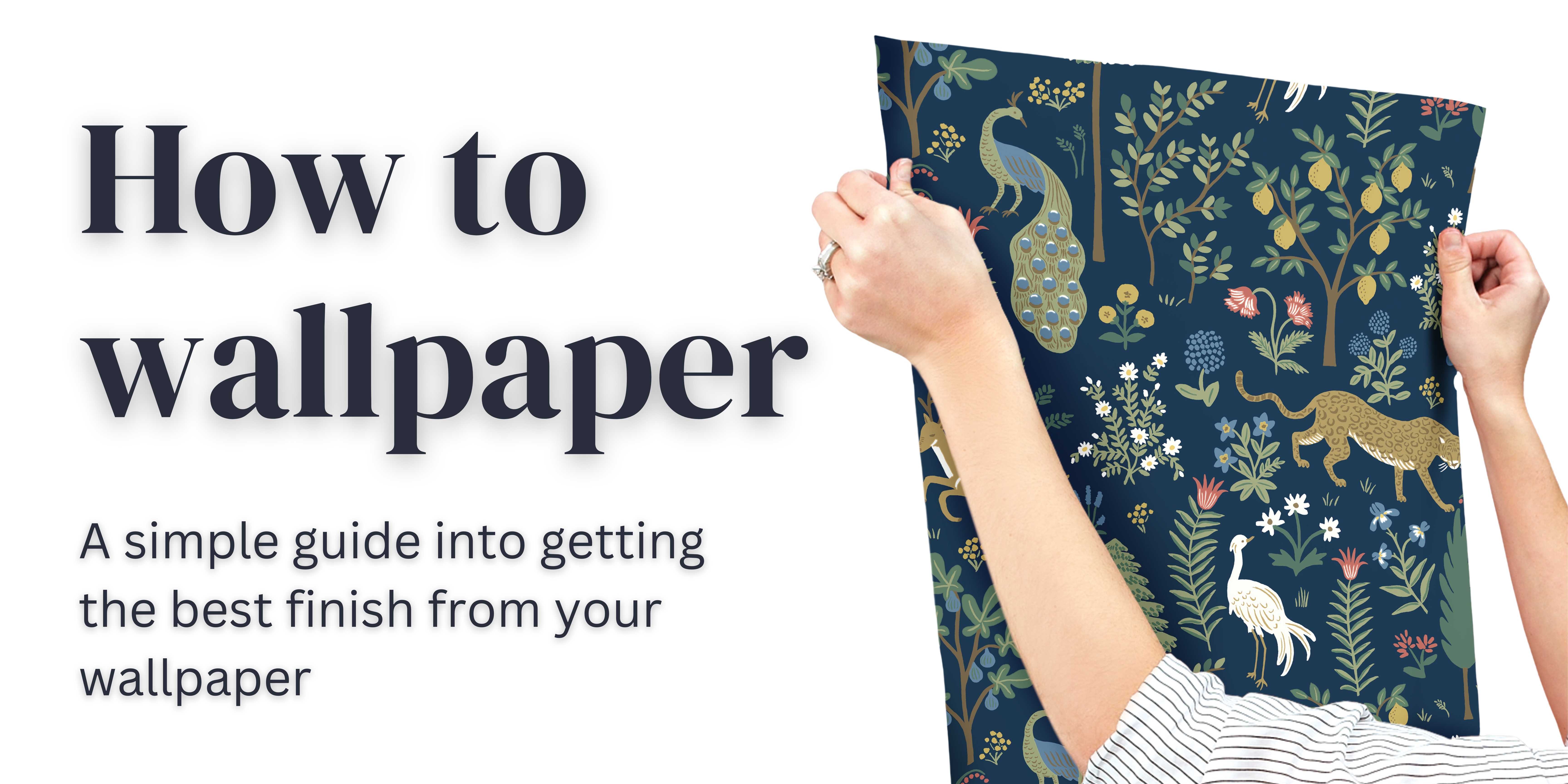 Before starting your wallpapering project you'll need to ensure the surface is prepped and ready for wallpaper. Doing this will ensure the best possible finish!
Remove any existing wallpaper

Always remove any existing wallpaper and paste from your walls before wallpapering, this will ensure that no lumps or creases appear on the surface of your new wallpaper.

Preparing the walls

Use decorators' filler to fill in any holes or cracks in the wall, then sand all over to smooth any imperfections and help with adhesion. Hanging lining paper prior to wallpaper can also help smooth over imperfections and will provide a backing to your new wallpaper. If you're wallpapering on top of freshly plastered walls you may need to seal your walls with wall size.

Checking your wallpaper

Before you start to hang your wallpaper there are a few things you'll want to check. Have you got enough wallpaper to complete the project? Are all of your rolls of wallpaper the same batch? Different batches of wallpaper can have slight colour variations that will be noticeable when hung. Does the label recommend any special paste for your wallpaper or does it say your wallpaper is pre-pasted? Does the label recommend hanging your wallpaper in a specific way? For example, for some wallpaper is it recommended to reverse alternate lengths when hanging. Is you wallpaper patterned? If so, you may want to plan where to hang your wallpaper so to centralise the design.
Dust sheets - cotton or plastic dust sheets are perfect to protect your surfaces
Stepladder - saves stretching
Spirit level/ plumb bob - use either of these to get a straight line for your starting point
Tape measure - measure twice, cut once
Scissors - good quality decorating scissors will ensure all cuts are clean and neat
Wallpaper paste - check your wallpaper label to find out what paste is recommended
Pasting brush/ mini roller - use either of these to ensure paste is evenly distributed
Paste table - use a paste table to apply your paste to the back of your wallpaper, fold and allow it to soak
Wallpaper smoother - use your wallpaper smoother to smooth out any air bubbles
Straight edge - use a straight edge to get perfectly neat cuts
Snap off knife - snap your blade in between cuts for clean and neat edges
Step 1
The first thing you'll need to do is find your starting point. If you're using a plain wallpaper, we'd recommend starting from a corner continuing onto a full wall. Use a spirit level or plumb bob to trace a vertical line on your wall, overlapping the corner by a few centimetres to avoid corner joints. If you are using a patterned wallpaper you may want to start from the centre of the wall to centralise the design.
Step 2
Now you have your starting point you will need to consider if your wallpaper is paste the wall or paste the paper. If your wallpaper is paste the wall, apply a thin, even layer of wallpaper paste to the area using a pasting brush or mini roller. Place your wallpaper roll on the floor, and start unrolling the wallpaper lining it up with the line you traced earlier. Overlap the ceiling by a few centimetres to allow for a straight cut. If your wallpaper is paste the paper, take a measurement from the top of the skirting to the ceiling, add at least 5 centimetres to allow for a straight cut at both the top and the bottom. Cut your length of wallpaper and apply a thin even layer of paste to the back using a pasting brush or mini roller. Follow instructions on the wallpaper label for waiting time. Once ready, line up your wallpaper with your vertical line overlapping the ceiling by a few centimetres.
Step 3
Once positioned correctly against your vertical line use your wallpaper smoother to smooth out any creases or air bubbles, working from the centre to the edges.
Step 4
Using your straight edge and snap off knife to trim any excess wallpaper at the ceiling and the skirting. Continue around the room.
When wallpapering around door and window frames apply your length of wallpaper as stated above overlapping the opening. Carefully trace the edge of the frame with your finger to leave a slight indentation. Make a diagonal cut to the corner of the frame and smooth down the edges using your wallpaper smoother. Trim any excess wallpaper with your straight edge.

When wallpapering around a plug socket or light switch, apply your length of wallpaper as stated above. When smoothing out air bubbles and creases, smooth towards the plug socket/ light switch, you should be able to feel the contours easily. Carefully, using your snap off knife cut diagonally from the corners to create a X. Use your straight edge to cut off the excess wallpaper around the edges of the plug socket/ switch.

If you're unsure about wallpapering why not try a 'paste the wall' wallpaper first. No need for a paste table or to fold or soak your wallpaper, simply apply the paste to the wall and hang your wallpaper straight away.